Recently (the last couple of years), I have started to gather up an insane amount of leftover yarns. I'm sure all knitters have a secret stash of yarn, just laying there waiting to be thought of.  It's not all mine though, a few of the ladies in my family have generously given me bags and bags of yarn they no longer have any use for. This does not make me sad at all, I've found great joy in the challenge of knitting with mixed yarns. A year ago I also got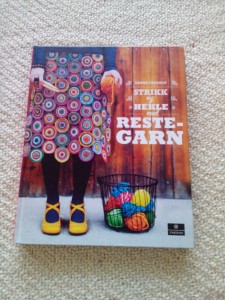 this book for Christmas, as an inspiration (Knitting and crocheting with leftover yarn). Making wearable unique items with leftover yarn is truly fun, so I've actually made several items combining various types of yarn.
Here are a few items I've made using all kinds of different yarns =)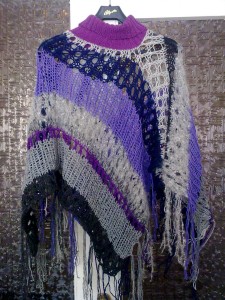 This poncho I made for myself some time ago, and it's a mix of cotton- and wool yarn. It's pretty much a mix of everything. Every colored stripe has it's own pattern, either ribbed or hole patterns. Knitted with big needles (sz9/US sz13), the poncho was a quick project.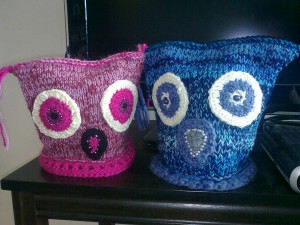 Owl hats, both were gifts for Christmas 2 years ago. I combined yarns to get one thick thread, to make them thick and warm. The eyes and beaks are chrocheted, and the perles sown in after.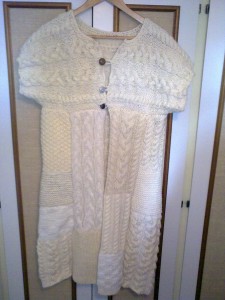 Birthday gift for my boyfriend's mother. She was the one who gave me the knitting book (at the top of this post), and this long sleeveless coat is from the book. This was a fun and exhausting project. Each patch is knitted with their respected needle size, and then sown together.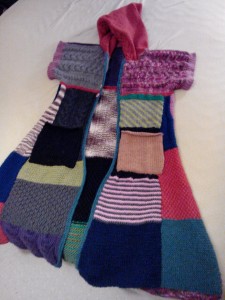 Inspied by the white coat, I had to make one for myself. I'm more colorful on the inside, so I just went for it with colors. I also added pockets and a hood.
Annonser
---