My boyfriend is just as much a nerd as me, in his own territory of course. Our bookshelves are filled with horror, fantasy and D&D books, our movie and tv-show collection are dominated by horror/fantasy/sci-fi, my boyfriend has several houndred computer games. But most of all he is my cookie monster. Literaly! Put a box of cookies in front of him, and he'll eat it all. If you're not fast enough, you might not get a cookie =) So for his birthday last year, I had to give him a couple of cookie monsters.
A cookie monster throw pillow, knitted with double thread acrylic and nylon fake fur with needle size 4 (US sz 6), to give it that hairy look =)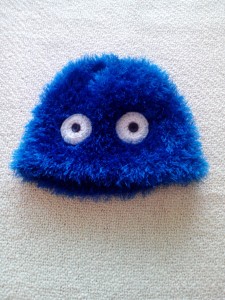 A cookie monster beanie, for those cold winter days. It's extremely warm, and knitted with the same yarns as the pillow.
Annonser
---