A long time ago, when I was still a novice in the knitting world, I really didn't care much about recycling yarn. When a project was done, and all the ends were sewed in and cut off, they would go in the trash. Whenever some yarn had been in my knitting basket for too long, I would throw them away. I blame my youth and lack of life experience =).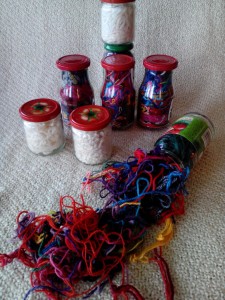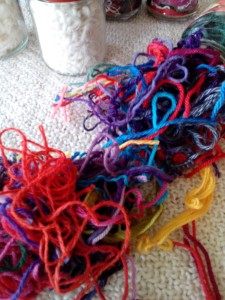 Now I save everything, almost to the point where I'm hording (it's not that bad, I don't have enough space for that =P). One thing I've become good at, is saving all my cut off's, and I stuff them in glass jars for later use. As I've mentioned before, these last few years I've been all about recycling yarn, knitting with my leftover yarn, and using every tiny scrap I have.
Here are some ideas you can use your scraps with: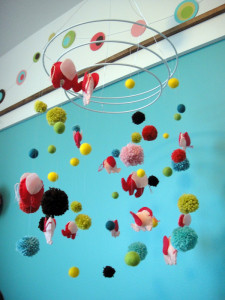 Make pompoms! Pompoms can be sewed to almost anything, to add a little color. You can decorate your home by making pompom art. Or you can sew them together to make coasters, trivets, pompom bookmarks, carpets. The possibilities are endless with pompoms! Click on the image to go to the website =)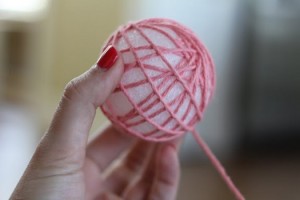 Glue or pin them to Styrofoam to make decorative ornaments! Click on the image to go to the website =)
Stuff teddy bears! If you're going to stuff something, you should keep the machine washable scraps separated from your hand wash. It kind of sucks to stuff a machine washable teddy with hand wash scraps. The stuffing will felt, and whatever you stuffed will be ruined.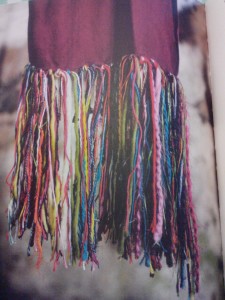 Add fringes to scarves and shawls! Knit or crochete tiny ornaments and make hairclips, or decorate shoes and clothing (image taken from my book).
Don't waste anything =)
Annonser
---