Meet May and Ida, Evil Ed's sisters! They are the second doll in a long line of creatures I plan to make (a plan I've been working on for almost 2 weeks now =P). My plan is to make myself a Freak Show Circus! I have a clown and Siamese twins now, so I think I'm off to an ok start =). If anyone has any ideas to what kind of creatures a freak show circus should have, I'm open to suggestions. So far I'm thinking of a creepy old gypsy fortune teller (Drag Me To Hell), a weird magician who actually cuts people in half (The Wizard of Gore – 1970), and a circus director in the style of Michael J. Anderson (Carnivàle/Twin Peaks).
Like Evil Ed, May and Ida are named after something from the realm of horror, they are named after two of my favorite characters portrayed by the beautiful Angela Bettis. At the bottom of this post is a short list of movies =).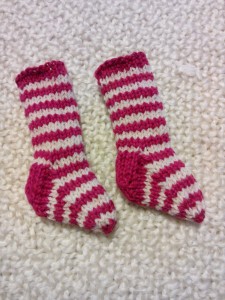 This doll was a lot easier to knit than Evil Ed. Mostly because I had a plan before I started knitting, and I stuck to the plan. Like last time I knitted a doll, I looked for some inspiration for my project. I wanted Siamese twins, one body two heads, and I looked through my collection of horror movies. I found a few, and the first one I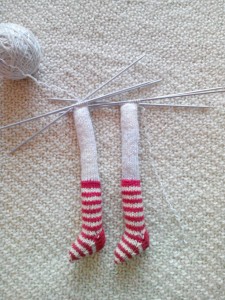 watched was Brian De Palma's Sisters. I started off at the bottom this time, actually with a pair of socks. I picked up stitches along the top of the socks, and continued to knit the legs.
I'm a big fan of knitting as many pieces together,
 instead of sewing what seems to be a million pieces together. What I did when the legs were long enough, was cast on new stitches between the legs, and continued knitting on double pin needles in a round. I did the same with the arms as I did from sock to legs. I picked up stitches along the holes I had made for the arms, and knitted! All I had to do from there was sew in any ends I had, and not having to worry about putting all the pieces together! I put the stitches for the necks on separate threads, I figured I would knit some clothes for them before the heads came on. At this point I had no idea how I wanted the heads and faces to look like. While I knitted the body, I watched Basket Case 1 & 2.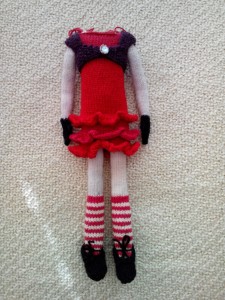 I decided that May and Ida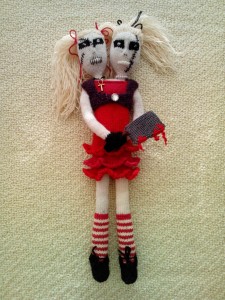 would be "pretty" girls, they like things that sparkle, they like to be feminine. They like to dress up and be quite girly. They have always been pretty girls, long before they died. I watched the movie Alone when I made the clothes, and quite fittingly the movie starts with the mother sewing a dress for her girls =D.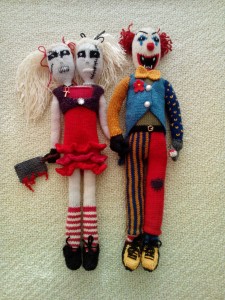 Evil Ed loves his sisters very much, they're probably the only thing Evil Ed loves. Evil Ed wasn't always evil. When May and Ida were still alive, Evil Ed was a fun loving clown. But then one day some people came and took May and Ida. They were freaks, and simple town folks think freaks are evil, and they killed May and Ida (those ignorant bastards)! Evil Ed lost it, and with some magical help got his sisters back. They are fully functional revenants with heightened psychic abilities. They don't need any weapons to kill people, but sometimes big brother Ed lets his sisters borrow his meat cleaver =).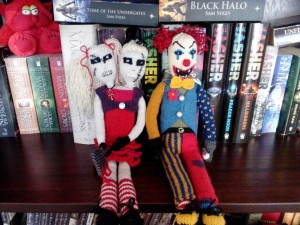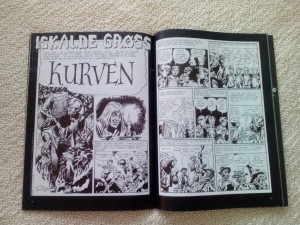 I also dug up this old comic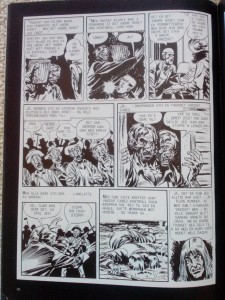 Iskald Grøss, the Norwegian equivalent of The Vault of Horror comic. It's about a two headed man, who covers up his "bad self" in a basket he carries around. It's a fun little story =)
A short movie list (they are all linked to IMDB):
Evil Ed – the inspiration for Evil Ed's name
May – inspiration for the name May
Masters of Horror – "Sick Girl" – inspiration for the name Ida
Sisters
Basket Case
Alone
Freaks
Annonser
---