Every crafter knows how expensive it can be to make/craft something, be it knitting or painting or whatever your preference is. We'll roam every corner of the world to find sales, bulk offers and slightly cheaper material (to replace expensive items). Internet shops does provide us with a variety of material with all kinds of sales and offers which are hard to refuse. This however is at the expense of our local shop, who very often have to jack up their prices to stay in buisness. And that is just too sad. The experience of shopping at your local store is so priceless, the personal service is undeniably awesome. Remember that your local shops are in the same position as you (if you're the kind of person who's trying to make your own buisness with homemade items).
My "local" shop doesn't exist anymore. Not because it couldn't stay open, but because the owner wanted to do something different. It was a tiny little shop called Hobbykroken, located in my hometown of Åkrehamn (on an island on the west coast of Norway). It was run by a mother and daughter, two of the most lovely people I've met. Going in to that shop was like heaven, the expertise they had was incredible. Among their suppliers was Drops Design, Sandnesgarn and Dalegarn.
Sometimes I would stop by, not knowing what I wanted (or even if I wanted to buy any yarn), and I would always leave with a bag of goodies. Any questions I had, they could answer. They also had a customer raffle. Every time you bought something, they added your name to the raffle, and the winner would get merchandize worth of a certain amount. In 2011 they put their shop up for sale (now it's a beauty salon/spa place thingy). The last week they were open they had a huge sale, and I don't think I'm wrong when I say that they must have sold pretty much everything in their shop. Of course I was there, who can refuse 70% off on everything! I ended up with bags of yarn, buttons and booklets worth almost 3000kr (376 US dollars), and only paid about 800kr (100 US dollars). I will always miss that shop, it was my favorite place!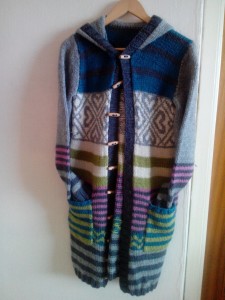 One of the things I was finally able to knit, was this jacket. Originally it would have cost me 1248kr, I only paid 374kr for it. Because of the vast sale they had that week, there wasn't enough skeins in some of the colors. So compared to the pattern I used, there are some minor changes. In the pattern there is no grey
color, it's a lavender purple. I went with a light grey color instead. I also added pockets, and had slightly more blue at the top of the jacket. The pattern is from this booklet , model 10. It's knitted with Alfa yarn , a wool yarn with 6% mohair. It is super soft and comfortable. I've had this jacket for years now, I'm going to keep it and wear it until it falls apart =P. Like my little local shop, it is my favorite =).
Support your local shop!
Annonser
---