One of my dearest friends is my youngest aunt, she's only 5 1/2 years older than me. She's the one who helped me the most when I first started going to therapy, she's the one who can handle me when I want the world to burn to the ground =). She's even taught me how to speak on the phone! I know that sounds weird, but it's true. For the longest time I wasn't able to have a conversation with anyone on the phone, and because of her I now can. We'll spend hours on the phone if we get in the zone, and it's not just a woman thing! =)
She's also the one who taught me how to cast on stitches properly! She's a wonderful person with a heart of gold, and she's a very skilled knitter (knitting, crocheting and needlework runs in our family).
Some time ago I asked her if she could photograph the things I've made for her (I've really not been a good girl when it comes to taking pictures of the things I've knitted in the past).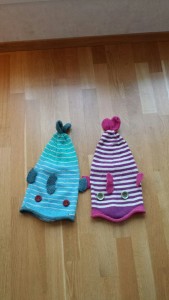 Fish hats knitted with Lerke yarn, this is the pattern I used. They hang in the hallway, and it's one of the first things I see when I enter their house =). Three or four years ago I knitted at least a dozen fish hats, and gave to people for birthdays and Christmas. I've even made a piranha!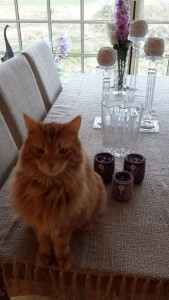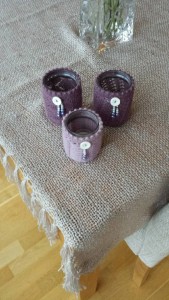 These candle holders were a gift two or three years ago. I chose the colors to match the interior of the living room. And her cat wanted to show how handsome he is =). He really is handsome, and he loves me =D.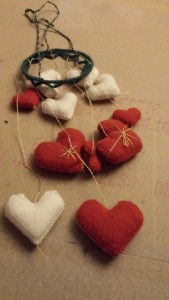 This was her gift last year, she asked for a Christmas mobile to hang in one of the windows in the living room. She wanted red and gold hearts, so I did that =).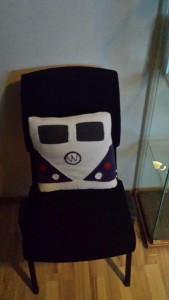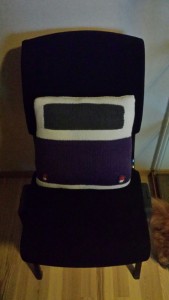 This Volkswagen pillow was a gift for my "new" uncle last year (she got married a couple of years ago, I'm not good at remembering dates and Birthdays and anniversaries). He's a man's man, he likes cars and engines, he frequently visits airplane shows. He's also a farmer (he's the eldest son in the family and inherited/is going to inherit the family farm). I found inspiration for the pillow on Ravelry, but I don't crochet very well. So I drew a pattern from the pictures and knitted it instead.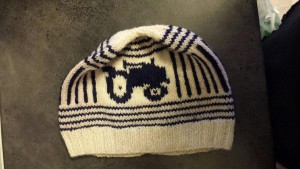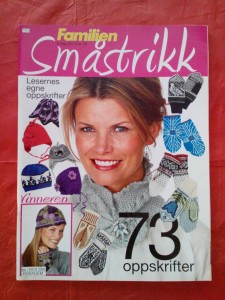 The pattern for this tractor hat is from this magazine. In the magazine it's actually a kids hat, but that can easily be fixed by adding stitches so it'll fit a man =). I thought my uncle should wear a tractor while driving one =D.
This shawl was a Christmas gift for auntie dearest, and I used this pattern  from Ravelry (it's a free pattern). I don't remember what type of yarn I used, but I'm guessing it was cotton yarn =).
She's also "borrowed" a few paintings I did (she was storing them for me, and one day she told me she had hung some of them in her house =P), but I'm not going to show that. I'm allowed to have a few secrets =).
Annonser
---