Although Halloween is still months away, there's no reason not to knit a flesh eating plant =D. For some reason I can never keep live plants for long. There's this thing where I think a plant is going to die, and so I water them too much and I kill them…! I am a plant killer! I don't mean to, I would love to have a small jungle in my home. I just seem to want to kill them all! =P I do however do a good job when I water other people's plants, go figure… I have one plant, which I'm desperately trying to revive. It has start to bloom again, on one side. I doubt it'll get through it though, but I haven't given up yet!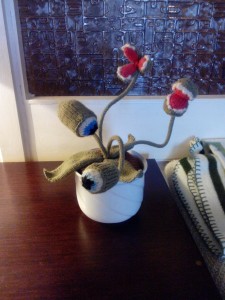 So since I'm so good at killing plants, I've started to knit them instead. That way I can't kill them, it is impossible to kill a fake plant (unless you find a pair of scissors and go crazy, which I won't do!). I made this plant for Halloween a few years back, and my boyfriend and I liked it so much, it gets to see the light of day all year long. It's no longer a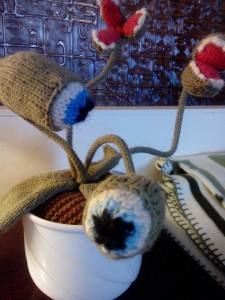 Halloween plant, it's our everyday plant =). I borrowed the idea from this lovely lady; Cyclops pot plant, when I one day googled knitted horror plants. I made a couple of changes, I wanted teeth on my plant, so I have two eyes and two mouths on mine.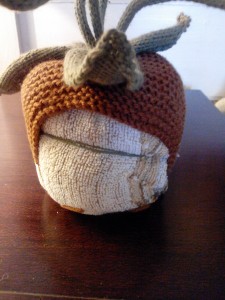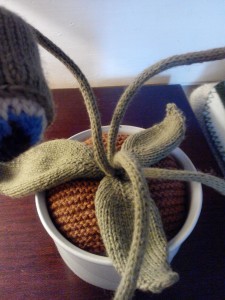 A little hot tip for the soil part, is to use really old towels you're going to throw out anyway. Those old towels that no one would ever use again, which have been taking up space at the bottom of your stack of hand towels =).
Here are some links to other fun knitted and crocheted plants (click on the images to go to the patterns):
Mario Bros. Piranha Plant by Janet Carrillo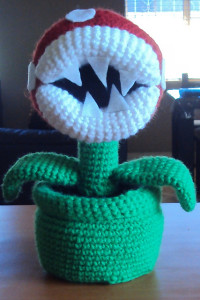 Piranha plant by Lupita Suarez

 Chomper from "Plants vs Zombies" by Olka Novitskaya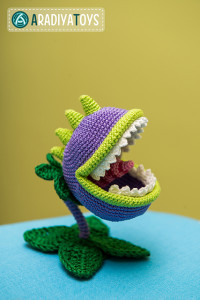 Carnivine Pokemon by Katherine Homer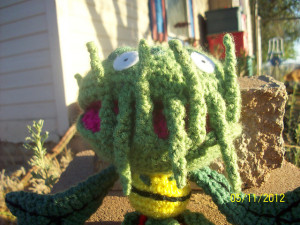 Sweet Halloween Pumpkin – NOT by Phoeny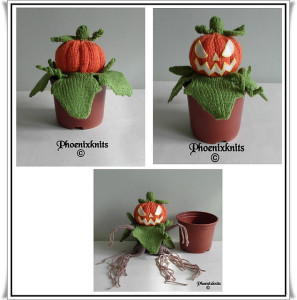 And here are some not so scary with a big nerd factor =D:
Rooti the Mandrake Seedling by Britni Husband
(it'll be like Pan's Labyrinth!)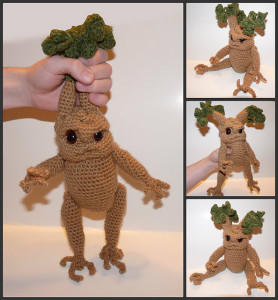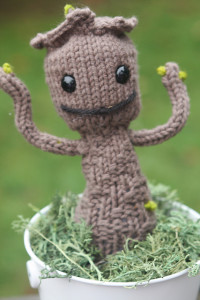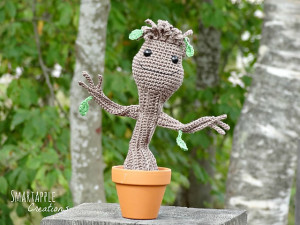 Baby Groot from Guardians of the Galaxy! The left one is crocheted by Maarja Härsing-Värk, the right one is knitted by Meghan Munro.
You should also take the time to check out some of the others things these designers have made! =)
Annonser
---