The Christmas gift knitting continues, and as a result I don't spend much time online writing every time I finish a project. Instead I've decided to show a handful of finished project, whenever I take the time to write something down, up until Christmas. I hope my 3 fans don't mind ;).
I have a bunch of kids I knit to every year, which I really enjoy. I get to tap into my juvenile and childish fantasies, and knit all kinds of silly and colorful things. Most adults don't really care about these childish things, and they're certainly not interested in wearing any of it (unlike me…). So knitting for kids is awesome. At the moment I'm knitting a bunny rabbit hat for a little girl, and all I can think is "I need to make one for myself…" (though mine would probably be a bit more scary and bloody).
These last few weeks I've knitted a dress, a sweater and a handful of slipper socks. When I'm in full-on-Christmas-knitting, I don't spend a lot of time creating my own designs from scratch. I'll usually use a design from a website or magazine, and just make a few changes. I do this so I'm close to a good size for whomever I'm knitting to (did I use "whomever" right? I never know when it's "whoever" and "whomever").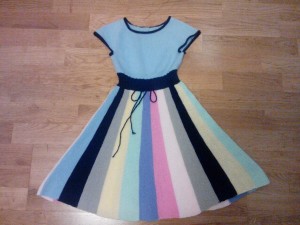 This dress is knitted with this pattern . It's the same needle size as in the pattern, so I got the same stitch numbers as in the pattern. The yarn I used was Pingouin Yarn (from the vast collection of leftover yarn I got this Summer from my aunt). I've named this dress The Candy Lollipop.
This sweater is knitted with this pattern , and is knitted with soft wool yarn. There's a whole bunch of different yarns in this sweater, Idena Juvel/Smart Superwash/Labbetuss Raggegarn and some other tagless skeins of yarn. Like the dress, I used the required needle size in the pattern, so I got the right size.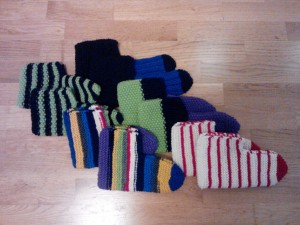 This sweet bunch of slipper socks was knitted with this pattern . They are super easy to knit, and a great gift to give people who like their feet warm and cozy during the Norwegian Winters =). They are knitted with Fritidsgarn, and range from size 37 to 44 (European size of course).
And so it's back to my knitting corner, I have some bunny ears to make =).
Annonser
---