I'm a bit of a nerd and a bit of a dork, anyone who knows me knows this fact. For years now I've combined my two favorite things, knitting and movie/TV watching. My collection of watchables is an ongoing, every-growing organism, which takes up a bit of space (I'll admit that). For a couple of years now I've had my VHS collection stored at an aunt's house, and a few weeks back a cousin of mine drove my collection up to me. It took me about a day to get over the excitement after my VHS's had arrive (I kept snuggling with them, true story!), and the next day I started on the mission of watching EVERY SINGLE VHS I have, to check the quality of the tapes. Sure, I'm fully aware that my VHS's won't have great quality on the 48″ digital Smart-TV in my living room, but I couldn't care less.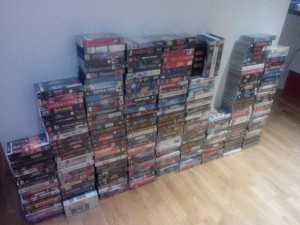 Now this is just the first boxes unpacked, VHS's takes up quite a bit of space, so I'll have to do my mission little by little =). The stack to the far left are those who can't be watch, ever again. They have passed away, and moved on to a better place.
I've had a great time these last few weeks, with my movies and my Christmas knitting. These are the things I've made since my last post: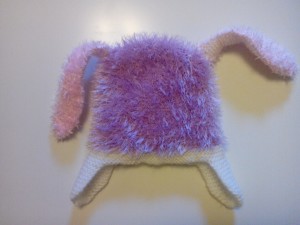 Bunny Ears Hat, knitted with Kitten Mohair (the white yarn), and Funny Pelsgarn (the pink yarn). I didn't use any pattern for this, it's very easy to make. You can take any kind of hat/beanie pattern, and just add the ears. And yes, I'm still thinking about making a Dead Bunny Hat for myself =).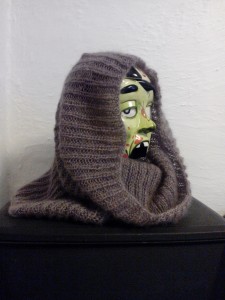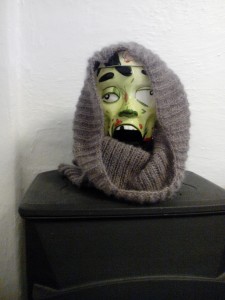 A long cowl knitted with double thread Sandnes Silk Mohair (purple and beige). Again I didn't use any pattern, I just cast on a bunch of stitches, and knitted *1knit, 2purl* until I was out of yarn =). It is super soft, and my Zombie Head is feeling nice and warm =P.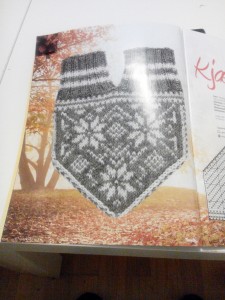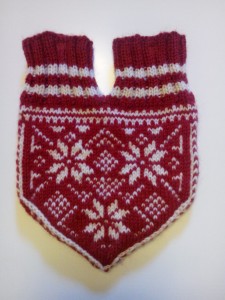 This is a Lovers Mitten, for those lovely lvoers who like taking hikes with each other. The pattern is from a magazine called Familiens Småstrikk. Now the lovers can hold hands while walking down Lovers Lane.
These adorable pink hats are knitted with this pattern, and they are made for some adorable children. Since the pattern is for adults, I used 2 needle sizes smaller, and I used Topp't Tå yarn.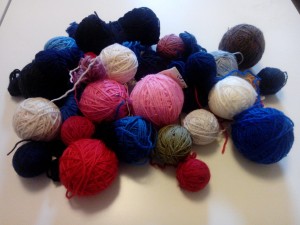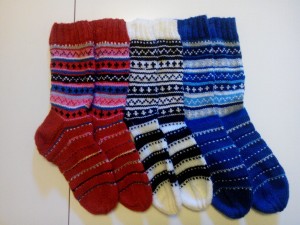 I have a huge pile of yarn, like this, just laying around. So I figured that I would knit as many pairs of socks as I can before Christmas, and that's how many people with get socks this year. I found a bunch of sock patterns on Garnstudio, focusing on patterns where I can change color many times etc. The first batch looks like this, and is knitted with this pattern.
Remember to stay warm, Winter is coming 😉
Annonser
---