I really can't seem to get enough of Minions, they are just so adorable. Princess Fisefia loves them too, especially King Bob. It's her birthday in less than 2 weeks, and she asked if I would make her some Minions for her birthday gift. She wanted a King Bob hat and a pair of socks with one eye on each, she was very specific in her request =).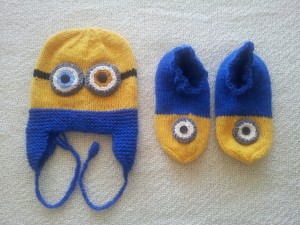 King Bob is the wonderful little goofball in The Minions – The Movie, he's kinda the baby of the group. He has different colored eyes, one brown and one blue. Or maybe it's green instead of blue, I chose blue because that's what Princess Fisefia said.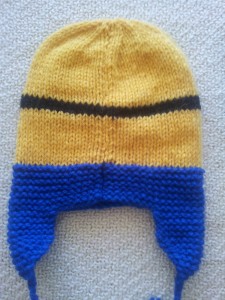 So here's what I ended up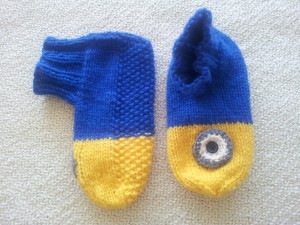 making, a hat and a pair
of slippers. The hat is knitted back and forth, and sewn together in the back. The eyes,
 both on the hat and slippers are crocheted and sewn on. They will be sent in the mail today, so she'll get them before it's too late =).
Here's the trailer for The Minion movie, if you haven't seen it yet =).
Annonser
---