I've mentioned a couple of times that I'm a horror fan, I'm a big horror fan! If I could, I would go on about how what and why I love horror. But I'm restraining myself as best I can not to go off topic (this is after all a knitting blog, not a movie blog).
On March 26th I watched Jon Watts/Eli Roth's new horror movie Clown, it was an enjoyable time. I think the same day (or at least a day or two before or after I saw this movie), Fear Itself (an upcoming horror movie) introduced itself to me. So you could say I had a wave of inspiration, and I knew I had to make myself an evil clown. Evil clowns are so much fun, although I'll admit there aren't that many evil clown movies I actually like, mostly due to poor storylines and terrible acting.
During the process of making my clown, I've of course revisited some clown movies and TV shows, just to be in the zone. At the bottom of this post is a very short list of movies and TV show I've enjoyed, and the titles are all linked to IMBD.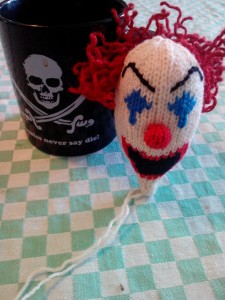 My initial plan was to make evil clown heads, and hang them on my branch in my windowsill. But as soon as I had finished my first (and so far only) clown head, I realized it was too good to just be a head. It needed a body. I also realized that my head kind of resembled Pennywise, so I decided not to make him a big puffy yellow one piece suit.
While I was making the head, I revisited season 2 of Psychoville which starts off with a clown funeral (not including the Halloween special episode). In Psychoville the main clown, Mr. Jelly, isn't necessarily evil, he is just bitter and cynical, and has had really bad fortune. He lost his hand because of another clown/surgeon called Mr. Jolly, so Mr. Jelly has a hook for a hand (and a bag of hands for his tricks).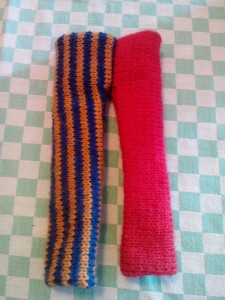 Since I started with the head, the rest of the knitting was very much a "lets guess how big the body needs to be, and just try until it fits". It took 3 tries to get the pants the size I wanted, because I was dead set on having different colors on each leg. While I did those I watched one of my absolute favorite clown movies, Stitches! A 2012 Irish horror comedy starring the stand-up comedian Ross Noble.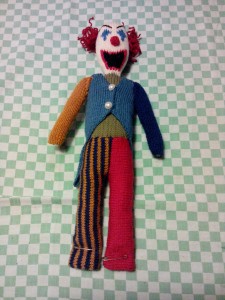 While I knitted the jacket, the torso (for this I just picked up stitches around the top edge of the pants and knitted on dpn until it was long enough) and arms, I revisited the Masters of Horror episode "We all scream for ice cream", and then I put on Stephen King's IT. I sewed on the head and arms, and sewed in buttons on the jacket.
What was left on the clown now was feet, hands, teeth, eyes, and some other details on his clothes. The feet were easy enough, and when they were done, I played tippy toe with them on the table. It's almost embarrassing how silly I can get when I'm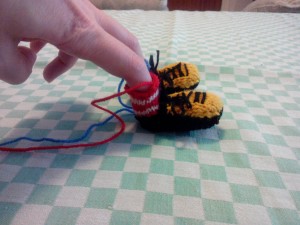 enjoying my knitting time. While I did the feet and sewed them on, I watched Amusement. It's not really a clown movie, however the clown part of the movie is really good, and so is the rest of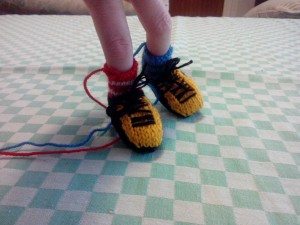 the
movie =D.
I had also made the decision to give him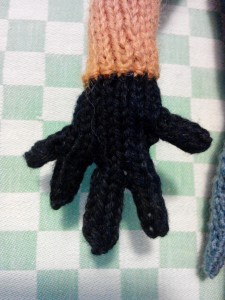 one hand and one hook. The hand was a bit of a nightmare to get right, but only because I wanted the clown to be able to open and close his hand. I knitted the fingers I-cord,  and stuffed pipe cleaners in them. It took a couple of tries, those skinny bastards kept bending and getting hooked on stitches. Of course this led to my boyfriend's boys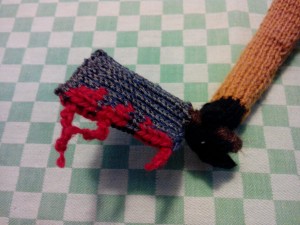 flipping each other off with my clown… They also made him answer the fake phone. I did it though, and now my evil clown can hold the meat cleaver I made for him. A blood dripping meat cleaver! It's all in the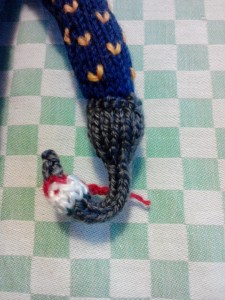 details you know ;). On his hook there is an eye ball, from his last victim!
This clown could have been made in a much easier way, but I don't really care. I had a lot of fun while knitting it. Specially doing all the little details, like the eye ball, the teeth and eyes, to the insignificant but cheerful yellow polka dots on his blue jacket arm. He still needs to be named, an evil clown needs a good name. All suggestions are welcome =D
And here he is, my evil clown!
Some of my favorite clowns on the screen, and clown movies/TV shows (including those I've already mentioned in my post):
Stitches
Psychoville (TV show)
Masters of Horror (TV show)
IT
Killer clowns from outer space
Amusement (not a true clown movie, just one part of it)
Zombieland (not a true clown movie, the character Columbus has a fear of clowns, and meets a zombie clown in the end)
American Horror Story (season 5 "Freak Show" has the evil clown)
Clown
Clownhouse (was very scary when I saw it as a kid, not so much as an adult)
100 Tears
Annonser
---