I haven't been too active on the knitting front this last week or so. Sometimes life gets in the way, and you have to priorities. That's what I'm doing these days. So when it comes to knitting, I don't have anything new to show you. Instead I'll show you a few bags and purses I've given to people as Christmas gifts.
I have made a few handbags, Ipad/tablet covers and cellphone covers as Christmas gift these last couple of years. I do like to give handmade gifts, and for some reason it seems like people like getting them =). In the past I haven't remembered to take pictures of all the things I've made. Here are some of the bags I've made and remembered to photograph =P.
Tablet/Ipad covers:
This purple shirt and yellow tie is a tablet cover. It's knitted with a wool/acrylic yarn, so it can be machine washed. It was a gift to a very busy and important man (he really is, working at the University and reviewing books for one of the big newspapers here), so I thought he needed something business like =)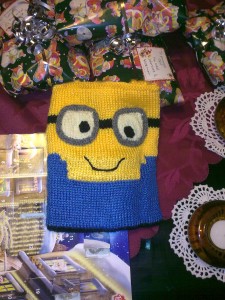 This Ipad cover is also in the post Minions. It was a Christmas gift to a very dear friend of mine. Funny story is that he had just replaced his Ipad, so he had my permission to give it to someone else for Christmas =).
Handbags:
This handbag was a Christmas gift for a lovely lady, in 2012. It's knitted with Eskimo yarn, and then felted. Like me she has a very colorful and unique style, which I absolutely love. So I thought she would like a colorful handbag. The pattern I used is this, with a few changes. I used a different type of yarn (Eskimo), and of course different colors. Eskimo felts a bit different than Alaska, which is why it looks so different.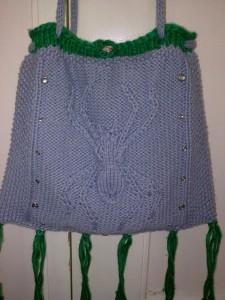 This handbag was a Christmas gift for the oldest daughter of my best friend. I used this pattern , which is free on Ravelry. The blue yarn is a cotton blend, while the green is Eskimo yarn. I also added some "bling", just for kicks =)
These two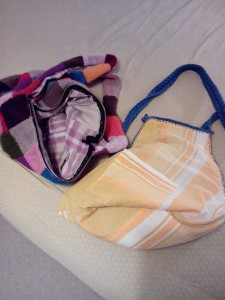 messenger bags was a Christmas gift last year (2014), for my best friend's daughters. The blue one is knitted with a cotton yarn, the pattern is moss stitching and a simple cable running along the sides and up the strap.The "rainbow" handbag is knitted with leftover yarn (so a mix of everything). I knitted rows and sewed them together. Both bags have inner linings and pockets.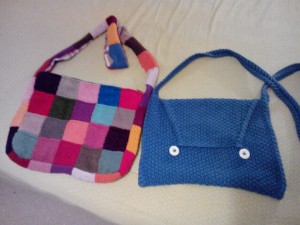 Mobile covers: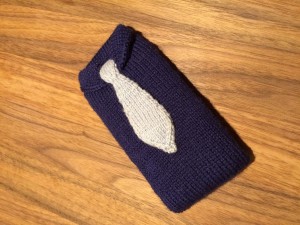 This cute little number is of course a cellphone cover. Also a gift to a very important guy (he invents life saving medical doodads).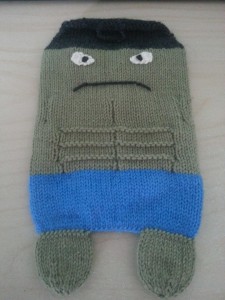 And then there was the Hulk! Of all the superheroes I know of, Hulk is one of the few I like, I love me some green anger. This was a Christmas gift to a friend I've known for 23 years now, and he is not at all big, green and angry. He's a cuddly goofy man with a big heart, so I gave him a superhero to look after him =)
I've also made an Ironman cover, but as I've mentioned I don't always remember to take pictures of the things I make. If I get a picture, I'll  be sure to edit it in here =).
Annonser
---