I'm a big tv show and movie fan, as is my boyfriend. Our movie collection are in the thousands, our tv show collection is huge! It might make us seem like boring people, spending most evenings catching up on our episodes and ever growing pile of movies we still haven't seen. But we don't care, we like being "boring". My boyfriend also works for a cinematic company, so we get 2 free movie tickets for every movie we see at the movie theatre =D. True story, I asked my boyfriend to marry me weeks before we even started dating, when he told me he gets 2 free tickets for every movie through his workplace!
Horror is not the only thing that occupies my time, I like to be entertained, so I watch all kinds of things. I'm one of those who follow too many TV shows, so much so that I've even made a spreadsheet to keep track of everything!
I have a "thing" for Tina Fey and Amy Poehler, specially their shows 30 Rock and Parks & Rec. I've also loved watching them hosting The Golden Globe awards!
30 Rock is by far one of my favorite comedy shows this last decade, there's just something really nerdy about it =P I'm not going go into any details why I think this is such a great show, tv reviewers can do that. What I'd like to show are my two 30 Rock hats, based on Liz Lemon's range of curse words.
For those of you unfamiliar with some of Liz's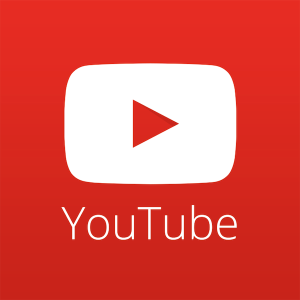 phrases and words, here's a little clip from YouTube: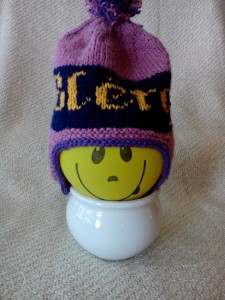 Meet my head model Bob-Igor Fluffy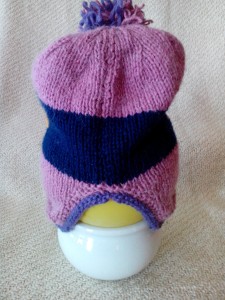 (very long inside joke I have with my boyfriend's oldest son =P). Mr. Fluffy will be my hat model until he passes gas, and dies!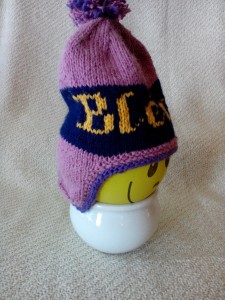 This hat says "Blërg", and it's based on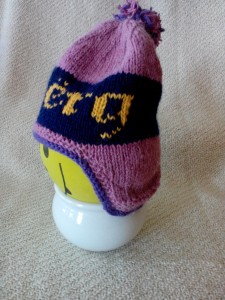 Liz Lemon's curse word "blerg".  Blërg is also the name of her home office furniture from IKEA. I knitted it back and forth since the letters only go on the front side, and then sewed it together in the back. It's knitted on needle size 6 (US size 10), with a mix of Fritidsgarn and Iglo (both are wool).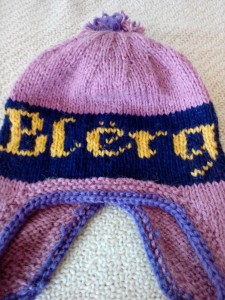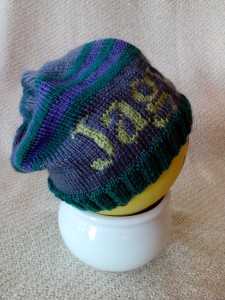 Here we have Mr. Fluffy in a stylish grey, green and purple beanie that says "jagweed", one of the many things Liz calls her nerdy co-workers when she's angry and stressed =) Knitted with a
wool/acrylic blend on needle size 4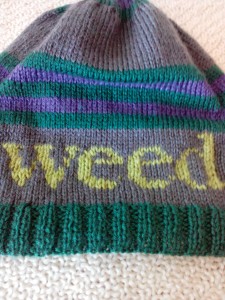 (US size 6), like the other one knitted back and forth, and then sewn together in the back.
Both of these are of course knitted with leftover yarn from my stash, it's what I do ;P. For the letters I used Times New Roman and Fancy Alphabet from this site. If you can't be bothered to draw up a chart of letters, you should check out the link =)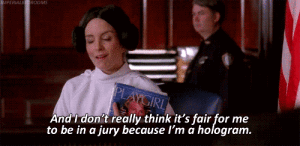 Annonser
---