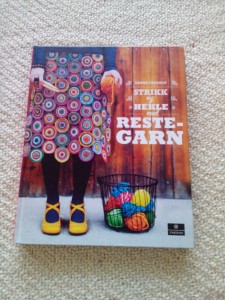 In 2013 I got this book for Christmas from my boyfriend's mom, I had it on my wish list =) For her birthday the following year I made her this absolutely beautiful coat, because I had so much white yarn laying around. Making the coat was very time consuming, but it was worth the work! It's a puzzle making this kind of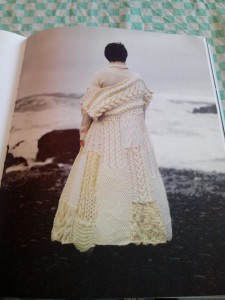 patchwork coat, using different needle sizes for the different types of yarn, making the swatch samples the right size, sewing it all together. The end result is in this post. Not as glamorous looking as the picture from the book, I did not have a sexy wind or a beautiful ocean at my disposal =P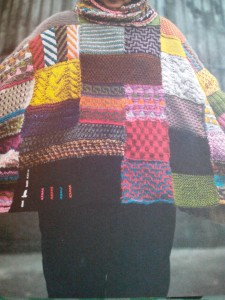 After the work was done, I realized it actually made me a little jealous, I wanted one too! As a pale Northman, I look kind of dead in white. Luckily I like colors, I can be quite colorful. So instead of making myself a white coat, I drew inspiration (from the same book) from this poncho.
The swatches/squares vary from cable patterns, to moss stitching, double moss and garter stitching. I used yarn like Eskimo, Kitten Mohair, Alaska, Nepal, Silja, Falk, and a whole bunch of other yarn (whatever was laying around basically). The needle sizes were 5 to 9 (US size 8 to 13), depending on the yarn. I'm guessing there's about 1500g of yarn in total, maybe more maybe less.
The top part of the coat (the yoke) is knitted in three pieces (2 front pieces, 1 back piece), all pieces knitted with the same cable pattern.  The back piece is 58cm long and 25cm wide. The front pieces are 26cm long and 25cm wide (I'm a size Large). The ribbed finish on the arms are 3cm.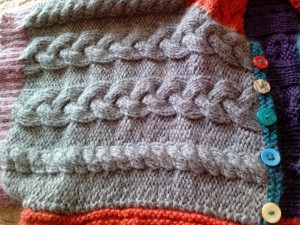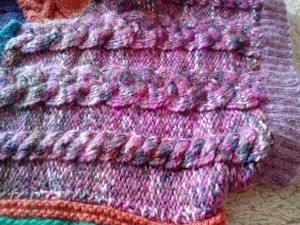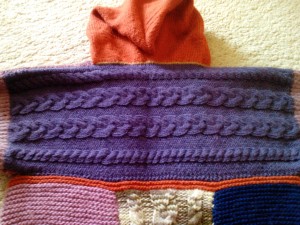 There are a total of 28 squares, that does not include the pockets or the hood. The longest measuring 34cm, the shortest only 3cm.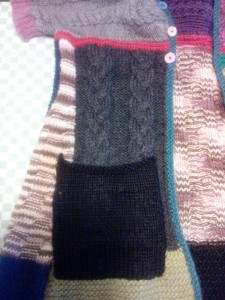 Left side (without the top yoke) is 20cm
wide on the top, and 42cm wide at the bottom. Right side is the same as the left (of course =P). Back side (without the top yoke) is 52cm on the top, and 76cm at the bottom. The coat measures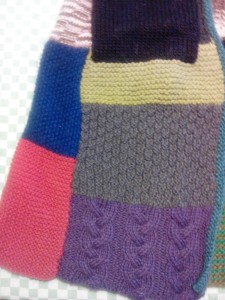 96cm
(from shoulder seam to bottom).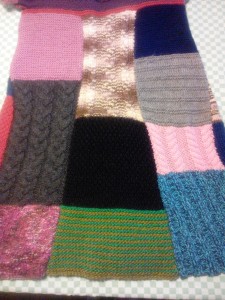 The final result is this colorful piece of work, I'm actually very proud. Specially since I've made two of these now (the other being the white one).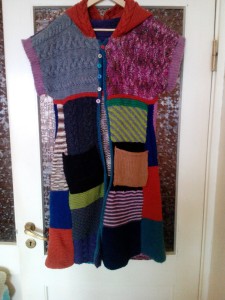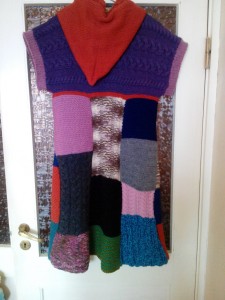 Annonser
---