I'm not really a girly girl, I've always been a bit of a tomboy. Most of my friends are of the male gender, and a lot of times I'm referred to as "one of the boys". Don't get me wrong, I have a closet filled with dresses, and when the occasion calls for it, I'll even throw in some jewelry. And for gods sake, do not touch my chocolate! I just don't spend hours in front of the mirror putting on make-up and other really girly stuff. That's not my thing, it never really was. I'm also the kind of person who would rather throw on a beanie than do my hair (it's just so much easier!), and I've always been told at dinner tables "it's bad manners to wear hats at the table". In my head I'll do rude gestures to the person talking to me, on the outside I'll just blame it on a bad hair day =).
So here's a selection of the hats currently in my possession. Mr. Bob-Igor Fluffy does not exist any more, so my new model is my zombie cookie jar (he can be used for so many things, I LOVE it!).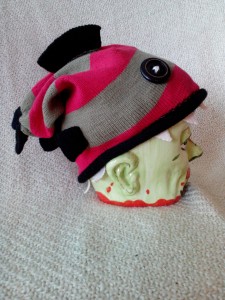 The piranha beanie I mentioned in my last post, and I'm very aware that a piranha is not striped. It's called artistic freedom! For those of you too lazy to find the pattern in my other post, here it is one more time =).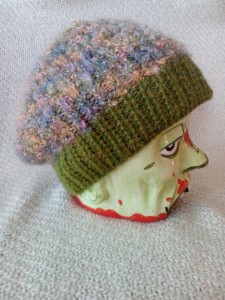 A simple beanie knitted with alpaca wool (the green), and boulcé yarn from this company. The yarn was a gift from one of my aunts a few years back.
This little number says "Latescape", and it's just a very dorky way of saying "laziness". Some of us Norwegian mortals do this thing where we mix the literal translation with the English word (and a little dorkiness), "laziness" in Norwegian is "latskap". You do the math ;). Who would have thonked dorky translations could be so much fun!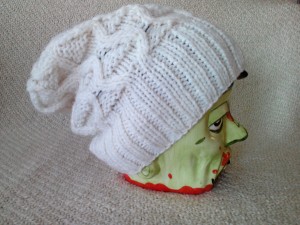 This beanie is actually a gift from my grandmother, so I did not knit this one. It's still part of my collection, and it would have felt left out if I didn't show it.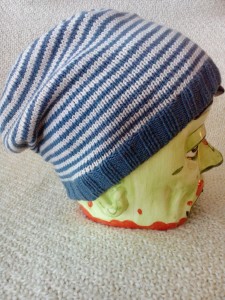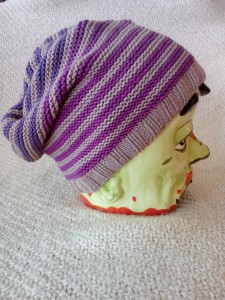 These 2 beanies were knitted with leftover Lerke yarn I had laying around, and they are even comfortable during the Summer.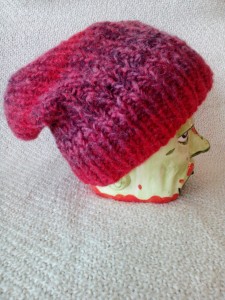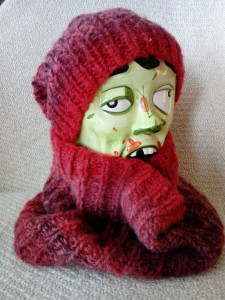 This beanie is knitted with Verdi yarn, and I used this pattern. It comes with a cowl as well. This has been my favorite beanie for some time now. I got three skeins of Verdi, and those skeins are BIG. You can almost knit an entire wardrobe with one of those. At least that's what it feels like =).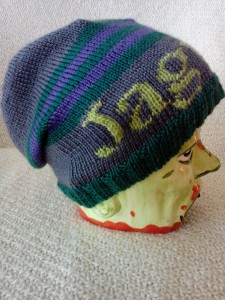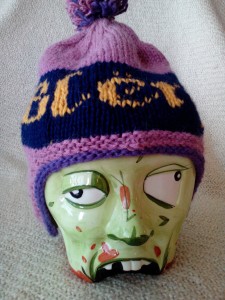 If you've been here before, you've seen my 30 Rock hats. For those of you (that one 1 person) who's here for the first time, here they are one more time. Oh, and here's a link to the post they're in =).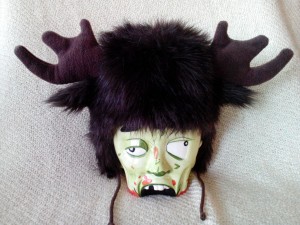 And for good measure, just because it's my favorite hat in the whole wide world. I bought this years ago, and my grandmother wondered why on earth I would buy such a hat. Because it's a moose! King of the forest! And it's just plain fun, and deadly warm!
Annonser
---